Jack Wilshere is one of the most annoying players in soccer.
He gets praised for being a "terrier" out in the pitch, but he really is just somewhat reckless and is a perpetual whiner.  He tries to be hard but he is not really strong, or big, or tough, and then just complains and cries non-stop.
Well he pretty much showed his true colors during England's friendly with Denmark.  Him and Daniel Agger both went in pretty hard on a 50-50 ball.  Both had a right to it, and there was nothing dirty about the play.  But while Agger came out clean with the ball, Wilshere actually rolled over the ball completely missing the tackle and injuring himself.  He is now going to be out for 6 weeks with a hairline fracture in his foot.  What a loser.
That was fun. 
Blaise Matuidi scores this ridiculous goal in France's win over the Netherlands.
Manchester United centerback has agreed to a contract with Inter Milan, where he will be moving to this summer on a free transfer.  He formed a formidable partnership with Rio Ferdinand, but is now 32 and his age and lack of pace have been a huge weakness in this United side that is disappointing greatly.
Still, Inter owner Erick Thohir had this to say about the Serb:
"Vidic is a world-class player," Inter president Erick Thohir told Inter.it. "I'm extremely happy to have completed this deal to bring Nemanja to Milan. He's one of the world's best defenders and his qualities, international pedigree and charisma will be an asset to the team and help bring through our younger players. He will bring added value to the club and is another piece of the great Inter side we are building."
It's a weird move for both Inter and Vidic.  Vidic is trading one aging, middle of the table club for another.  Inter, who was previously trying to get younger and cheaper, seem to be abandoning that plan.
Goal.com seems to agree, as they state that Inter are wrong to sign Nemanja Vidic.
However the best part about hearing this news is finding out that Vidic is married to woman named Ana Ivanovic, yet not the tennis player despite them both being Serbian.
Barcelona legend and Awesome Soccer Hair Club hall of famer Carlos Puyol has announced that he will be leaving Barcelona this summer.  The player will be released early from his contract, but a decision has yet to be made on if he will retire or not.
"I want to announce that at the end of the season I will no longer be a Barcelona player.

"There are three months of the season left and I will not give up. I will help the team.

"After two recent surgeries, it has become harder for me to recover the level that I demand of myself and that I need to be at to play here.

"I don't know what I will do after June 30th, but I'm sure that in the summer I will rest.

"I would like to have a press conference at the end of the season to say a proper goodbye after a total of 19 years at the club."
In this article, Goal takes a look at how Puyol is football's last pure defender.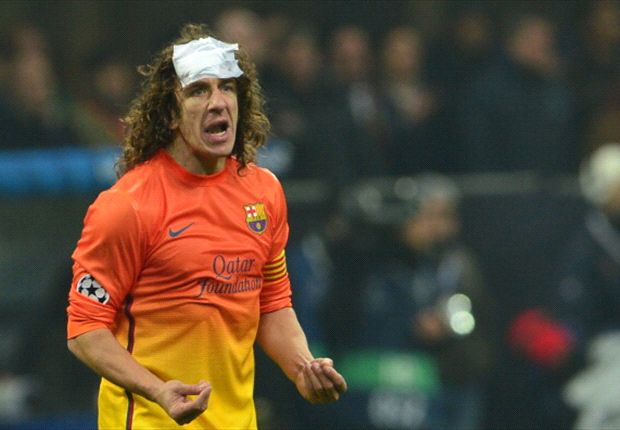 John Brooks is a German American born Center Back who plays for Hertha Berlin and the USMNT. Rog spent some time with him today and sent us this photo of Brooks' tattoos. His left elbow has a map of Berlin marked with a star over Brook's exact birthplace. The one on his left is Illinois, marked with a star over Chicago, the place of his father's birth, where the American side of his family reside.  No finer way to capture the nuance and texture of Jurgen Klinsmann's United States National Team tapestry.
Liverpool are on course to record their best goals scored total in the Premier League era. How many do you think we'll finish the season with? (x)
(Source: martinskrtels, via danielaggerstattoo)
U.S. Soccer released the 2014 Home jersey that the USMNT will be wearing in Brazil this summer.

It's clean cut, clsssy, oh and boring. I'm not a big fan of the collar. It looks more like a Polo shirt, than a jersey to me.

What do you think? Love it? Hate it?

THERE'S ONLY ONE THING TO DO IN A CASE LIKE THIS.

POP.

THAT.

COLLAR.
Nice golf shirt.  Oh wait, this is the official kit for the USMNT???  
Not going to buy this one.